Lost and Found
If you have an animal that is lost, found, or just needs to be re-homed please email us at rah123@windstream.net and we will be glad to add them to our page.
LOST PETS
FOUND PETS
ADOPTIONS
Zeus and Ceasar
Zeus
Species: Canine
Sex: Male (Neuter)
Age: 3 years
Breed: Great Dane
Color: Black
Vaccines: Current
Ceasar
Species: Canine
Sex: Male (Neuter)
Age: 3 Years
Breed: Great Dane
Color: Blue Mearl
Vaccines: Current
Not good with other dogs, cats, or kids.
For more information please call our office.
Posted February 24, 2017
-------------------------------------------------------------------------------------------
JACK
This is the little lover jack. Unfortunately he has paralyzed rear legs and can't walk. He scoots around everywhere he has to go. He is 7 years old, neutered and is up to date on all his shots.
We have just had new born baby enter our home and can't give jack the attention he needs and deserves. Jack, is great with kids and adults and
LOVES attention.
We need a good home for him with someone who can give him that love and attention.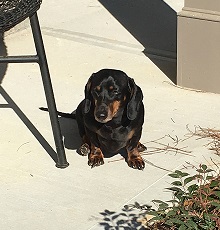 -------------------------------------------------------------------------------------------
4 Heeler Mix Female Puppies
These beautiful girls are 5 ½ Weeks. They are free to a good home. For more Information about these puppies please call Candace at 828-421-8628.
Posted September 13, 2017
_________________________________________________________
NEED TO RE-HOME GREAT DOG
Gator is available, 6 months oldish. Great temperament. Great with kids. He loves horses, cats, other dogs but plays a little rough with our kitties! Needs somewhere he can run with other playful dogs. Crate trained. Knows many commands(sit, shake, high five, lay down, crawl, roll over, give me kisses, come here, go play, etc.) Would not be great outside dog at night. Gets cold easily.
Due to changes in work hours, he needs and wants attention. We found him on the side of the road a few months back and he was malnourished, dehydrated, full of worms. He has been vetted (RAH). In process of getting him neutered. Small re-homing fee to ensure loving home. Please call 706-949-1839.
Posted 10-20-17
Free To a Good Home
Leo
4 years Neutered Hound Mix
Up to date on vaccines and has microchip
Can't go to a home with other dog (Dog Aggressive) but good with cats and kids.
For more information please call our office.
Posted 10-30-17